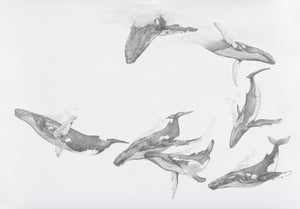 Limited Edition Print
This print is sold as print only in 2 size options.
Inspired by whale swimming in Tonga in 2019
The Original graphite drawing has been sold.

Prints are produced using a sophisticated digital reproduction system and the highest quality archival processes currently available. The images are printed with pigment ink on a 100% cotton rag archival paper and will last over 100 years. 

This graphite drawing was entered in the Underwater Tour Awards 2021 and was awarded 3rd Place. For more details about this piece and the Artist's statement, please contact Vanessa.